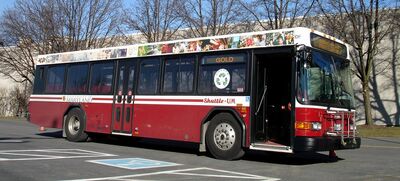 Shuttle-UM is a transit system for the University of Maryland, College Park campus (UMD), which constitutes the UM acronym of the company, that operates as a unit of the university's Department of Transportation Services. The system is student-ran and is supported by student fees and the university's Student Affairs department. Its fleet consists of over 60 vehicles and transports approximately over three million riders a year. The system provides four different services: commuter, evening, charter, and demand response. The latter consists of a paratransit service and a call response curb-to-curb service during the evening, while the former consists of a bus service that runs for 24 hours, seven days a week. Implied by its name, the bus service route's "shuttle" passengers to and from the university with over 20 different routes. Paid upon admission by students to the university, the services are complimentary and only certain services require university identification badges. In 2012, the company expanded to provide service to the University of Maryland Baltimore (UMB) campus under the name, UM Shuttle. Additionally, a new facility was built to house Shuttle-UM's operations and fleet within the campus after over 30 years of being housed off campus.
Ad blocker interference detected!
Wikia is a free-to-use site that makes money from advertising. We have a modified experience for viewers using ad blockers

Wikia is not accessible if you've made further modifications. Remove the custom ad blocker rule(s) and the page will load as expected.