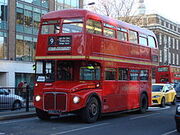 The London bus system is operated by London Buses. However, the operator has changed many times over the years. Bus numbers were first used in 1906. Nowadays, the system uses double decker buses in the city and single-decker buses in the suburbs. The last bus designed specifically for London was the AEC Routemaster bus. Now, only two "heritage routes" use these buses. However, a modern Routemaster bus was put into service in February 2012 to replace articulated buses , or "bendy buses."
London has one of the largest bus systems in the world, with over 700 routes. It carries over 1.8 billion passenger journeys per year.
Ad blocker interference detected!
Wikia is a free-to-use site that makes money from advertising. We have a modified experience for viewers using ad blockers

Wikia is not accessible if you've made further modifications. Remove the custom ad blocker rule(s) and the page will load as expected.