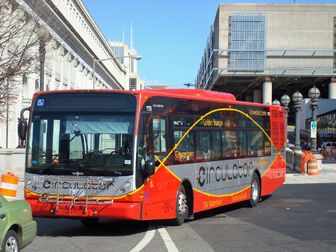 The
DC Circulator
is a bus system in Washington, D.C.. The District of Columbia Department of Transportation, the Washington Metropolitan Area Transit Authority, and DC Surface Transit operate the service in a public-private partnership with First Transit.
The DC Circulator buses are similar to shuttles since they operate on a predictable fixed route and schedule, and run between the city's main attractions and most popular neighborhoods for visitors. The service has seen increasing year-on-year ridership since it began service in 2005.
Ad blocker interference detected!
Wikia is a free-to-use site that makes money from advertising. We have a modified experience for viewers using ad blockers

Wikia is not accessible if you've made further modifications. Remove the custom ad blocker rule(s) and the page will load as expected.