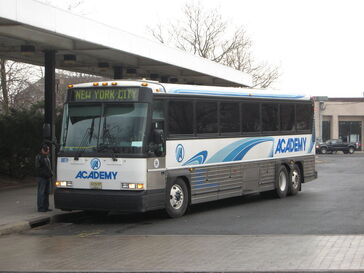 Academy Bus Lines
is a bus company in New Jersey  providing local bus services in northern New Jersey, line run services to/fromfrom points in central New Jersey, and contract and charter service in the northeastern United States from Boston to Northern Virginia.
Academy's fleet consists of a variety of motor coaches, including Motor Coach Industries (MCI) motorcoaches, which are used for commuter and charter services. Nova Bus LFS, RTS, and New Flyer Industries D60LF buses are used for university contracts and some charters. Services operated under contract to New Jersey Transit use NJT-owned and branded Nova Bus RTS and North American Bus Industries (NABI) buses. Many of Academy's Motor Coach Industries and Nova Bus RTS bus fleet are owned by New Jersey Transit and leased to Academy. These NJT-owned buses are Academy-branded and used on services directly controlled by Academy.
Ad blocker interference detected!
Wikia is a free-to-use site that makes money from advertising. We have a modified experience for viewers using ad blockers

Wikia is not accessible if you've made further modifications. Remove the custom ad blocker rule(s) and the page will load as expected.